What are Antioxidants?
Antioxidants plays an important role in the heart disease, cancer and other diseases. They are the chemicals that may protect your cells against free radicals.
Free radicals– they are the molecules produced at the time of breakdown of food or if someone is exposed to tobacco smoke or radiation.
The damage caused by free radicals is stopped or limited by the use of Antioxidants. Your body uses antioxidants to balance free radicals. This prevents further damage to other cells.
In Ayurveda there are many drugs possessing Antioxidant properties like the traditional Ayurvedic Formulation "Triphala" it is having high potential Antioxidant properties.
TYPES OF ANTIOXIDANTS-
There are thought to be many substances act as Antioxidants and possibly thousands of substances which areacting like it. Those substances has its own role and can interact with others to help the body work effectively.
"Antioxidant" describes what a range of substances can donot only the name of a substance.
Some of the examples of Antioxidants are as follows-
Vitamins – A,C and E
Beta-carotene
Lycopene
Lutein
Selenium
Manganese
Zeaxanthin
Plant based food Antioxidants–
Flavonoids
Flavones
Catechins
Polyphenols
Phytoestrogens are all types of antioxidants and phytonutrients.
USES
They play an important role in the following diseases-
Cancer
Diabetes
Heart disease
Stress
Anxiety
Alzheimer's disease
Macular degeneration
Some Chronic diseases etc.
HEALTH BENEFITS OF ANTIOXIDANTS-
They can protect against the cell damage that free radicals cause, also known as oxidative stress.
There are various Activities and processes that can lead to oxidative stress these are as follows-
Mitochondrial activity
Excessive exercise
Tissue trauma, due to inflammation and injury
Ischemia and reperfusion damage
Consumption of certain foods, especially refined and processed foods, trans fats, artificial sweeteners, and certain dyes and additives
Smoking
Environmental pollution
Radiation
When someone is exposed to chemicals, such as pesticides and drugs, including Chemotherapy.
Industrial solvents
ozone
These activities and exposures leads to cell damage.
This in turn may lead to:
An excessive release of free iron or copper ions
an activation of phagocytes, a type of white blood cell with a role in fighting infection
an increase in enzymes that generate free radicals
a disruption of electron transport chains
All these can result in oxidative stress.
The damage caused by oxidative stressis inter-linked to cancer, Atherosclerosis and the vision loss.
The person taking antioxidants in daily life is believed to reduce the risk of these disorders.
The Act of Antioxidants-
As a Radical scavenger
Hydrogen donor
Electron donor
Peroxide decomposer
Singlet oxygen quencher
Enzyme inhibitor
Synergist
Metal-chelating agents
Other research shows that antioxidant supplements may help reduce vision loss due to age-related macular degeneration in older people.
SOURCES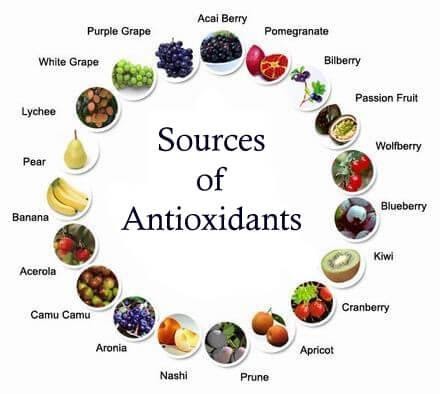 ANTIOXIDANT DEFICIENCY
When the body is not taking adequate amount of Antioxidants then as a result the various free radicals that are produced spreads to the other cells and destroys cause cell damage further can cause DNA Damage.
This may cause the enlisted diseases-
Parkinson 's disease
Rheumatoid Arthritis
Alzheimer's disease
Cancer
Eye Disease
Heart Diseases
DAILY RECOMMENDED INTAKE OF ANTIOXIDANTS
In order to Stay Healthy and happy life and prevent yourself from various diseases consume the food and Beverages enriched with Antioxidants.
4 to 5 servings of Fruit every day
4-5 serving Vegetables
5 to 10 portion of Grains
Lemon juice or one lemon per day
1 Amla per day
CAC SPECIAL ANTIOXIDANT PRODUCTS-
DETOX JUICE
ALOE VERA JUICE
AMRIT TULSI RASA
TRIPHALA JUICE
FOR MORE DETAILS VISIT OUR WEBSITE-